The Moment the World Stood Still at Qingcheng Mountain Sichuan Province China
How the world stood still at Qingcheng Mountain? I have to tell you this story – it was truly unique and I have never experienced anything like this before.
My family and I travelled to Chengdu in Sichuan Province with Master Zhao Shihua (an incredible Qigong Master and Healer). 
A two-hour bus ride from Chengdu is the beautiful Qingcheng mountains.  Now in China they use the mountains as places of worship, so you have Daoist Mountains and Buddhist Mountains.  Qingcheng is a Buddhist mountain.
Even though it's a two-hour bus ride to the mountain, you still have to walk to the top, no cars or buses allowed. Zhao encouraged us to take the one-hour hike up the side of the mountain to visit a very special Buddhist temple. 
It was autumn at the time but there was a sudden cold snap and the temperature was near freezing.  We were unprepared with only light clothes as on the low lands it was still quite warm, so we all had blue lips by the time we reached the summit. But it was worth the trek and the freezing cold because standing before us was the most incredible gold statue of Buddha; it stood what looked like 30m from the ground. 
After wandering around in awe of the statue for a while, we discovered a small path off to the side. Keen to explore further, we all marched on for a short distance and came across a set of rocks on the edge of the mountain. Now keep in mind on this particular day there were 100's of people around even though it was very thick fog and very cold.
And at this point all six of us (my family and Master Zhao) were each sitting on a rock chatting and decided this would be a great spot to relax and meditate. Next minute the most peculiar thing happened. Everything went quiet, now I mean silent and it was as if time stood still. In this time not one person visited the area where we were and you could not hear any noise.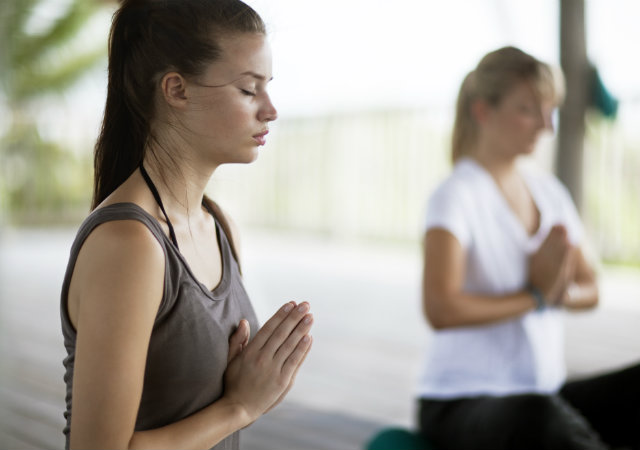 During this meditation time I felt an incredible energy force and saw many images flash into my mind spontaneously. It must have been a very spiritual location. Believe it or not, some 40 minutes had passed and all of a sudden it got noisy, people started walking down and taking photos and the calm was gone. We moved on from this spot but all had similar peaceful experiences to share. It's an amazing memory.
I think about it sometimes and realize its great to sometimes stop and appreciate what's around you and who's around you and for the wonderful moments life gives you at the most unexpected times.