The Journey to Australian Champion by Marco Tentori

Marco Tentori is currently the longest running member at the Academy. Here is his story: From a young age I hungered to become strong, both mentally & physically. This lead me to start training, at first I trained myself at home, but I soon realised that I needed professional instruction so I sought out the Chinese Kung Fu & Tai Chi Academy, which was called the Choy Lay Fut Buk Sing Gwoon back then and I joined mid way though 1997.
While initially I was very uncoordinated, I trained diligently every day & I eventually achieved my black sash. I had always I wanted to test my skills in the ring against other styles and since muay thai has the reputation of being the toughest ring sport I thought that it would be the perfect test. In October of 2004 I had my first fight against an experienced muay thai fighter on a muay thai fight show, which I won. While in the beginning I only fought sporadically – once or twice a year, I eventually stepped it up and fought as often as five or six times a year, eventually turning professional and fighting my way to the top of the professional ranks.
I captured many muay thai championship titles and had my most recent fight to date against the world number 1 ranked muay thai fighter, Yodsanklai Fairtex, an 8 time world champion.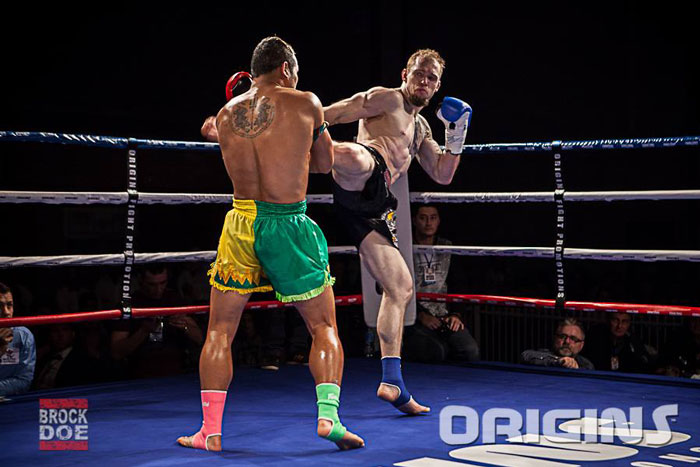 While now I am now 31 years old, I feel that I am only getting better and am hungry to continue fighting the best. I also enjoy training others and helping coach the sparring classes at the Balcatta branch of the Chinese Kung Fu & Tai Chi Academy and I have successfully trained others from our Academy to fight and win in competition. My fights and preparation for these fights has lead me to adapt some new scientific training methods to ensure the success of our Choy Lay Fut techniques against a high level of opposition.
Marco Tentori's Fight Record:
–       WPMF Super-Middleweight Western Australian State Title 2006
·         WPMF Middleweight Western Australian State Title 2007
·         WBC Middleweight Australian Title 2008
·         WBC Middleweight Australian Title 2010 (1st title defence)
·         WBC Middleweight Australian Title 2010 (2nd title defence)
·         ISKA Light-Middleweight Australian Title 2010
·         OTBA Middleweight Australian Title 2010
·         WKA Super-Middleweight South Pacific Title 2011
·         OTBA Middleweight Australian Title 2011 (title defence)
·         WBC Middleweight Australian Title 2012 (3rd title defence)
·         OTBA Middleweight Australian Title 2012 (title defence)
·         WMC Middleweight Western Australian State Title 2014
·         WMC Middleweight Australian Title 2014
·         ISKA Middleweight Commonwealth Title 2014