Chen Tai Chi Master Mr.Wong Seng Choong
Wong's interest in the martial arts has been a driving force throughout his life.
Since he (Chen Tai Chi Master)  first began training at 10 under his own master, the late Chang Choy, he has continued to be consumed by both the sporting and its more spiritual and emotional dimensions. 
Wong's passion for Chinese Martial Arts and the desire to share it resulted in his resignation from his day job as an insurance agent in 2000 to become a full time instructor at the Chang Choy Physical Training Institute, (they don't call them Kung Fu Schools in Asia) a school he founded and is principal of.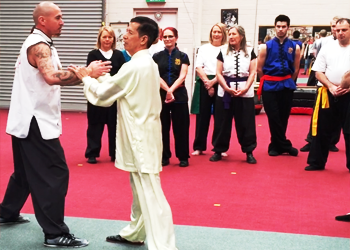 Chen Tai Chi Master originally started the school with the permission of his Master, back in 1979 and named it in honour of his Master Chang Choy. 
He firmly believes in the benefits of Kung Fu and Tai Chi for aiding one's spiritual life, no matter what your beliefs. It gives inner focus and a clarity of one's way of life and is a way of realising your potential. 
Sifu Wong also likes to instil the values of self-discipline, self-confidence and faith in your own spiritual beliefs through his training regime.
Besides his own personal sporting achievements, his students have also done well, producing national champions in Tai Chi. Some have gone on to become instructors in their own right. 
He also sits on the board of the Kuala Lumpur Wushu Association and is an honourary advisor for various Choy Lay Fut (the most widely practiced kung fu style in Asia) Association, including the World Choy Lay Fut Association which is based in Hong Kong.