Have you ever seen those awe-inspiring paintings of rugged mountains in China with the clouds and small houses? One such place that inspired many artists is the beautiful Huangshan mountain.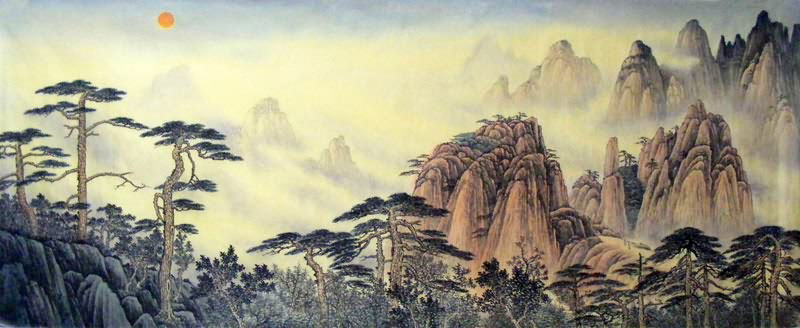 Our Kung Fu group of 40 was on a 14-day tour of China and half way through our exciting itinerary was a visit to one of China's most beautiful mountains, Huangshan, meaning Yellow Mountain located in Anhui Province.
The day of our visit the Huangshan mountain was covered by thick fog and cloudy, and at her base we could only see a few meters in front.  A feeling of disappointment overshadowed the group as we climbed into the huge cable car (the largest and longest cable car in the World).
As we took off to climb the 3000m to the summit we could see nothing outside, it looked like we were floating in the clouds as we moved silently through and everyone was chatting and laughing as the cable car moved upward and totally oblivious as to what was about to happen.
The moment that happened next was breath taking, now I mean a moment where you are completely absorbed in the truly outstanding beauty that is nature.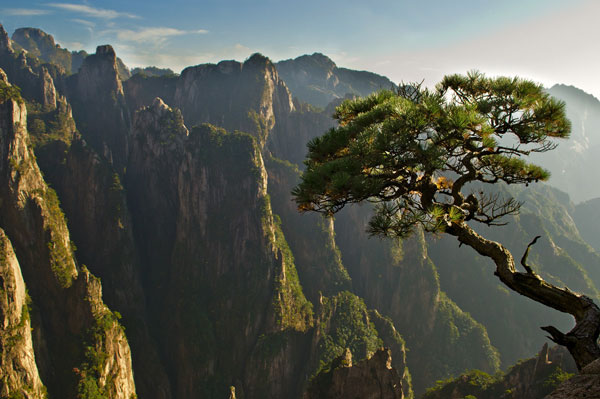 Within a few seconds the glass dome we were enclosed in filled with a golden light as we suddenly and unexpectedly broke through the clouds.
We had a full panoramic view of the pinnacle type Huangshan mountains illuminated in golden light from the sun. The entire group went silent it was so beautiful.
When we arrived at the top of the mountain, it was a crystal clear day and off in the distant we could see thick blankets of clouds rolling over the peaks. It looked like a place where god's reside. It was stunning.
Our guide said we were very lucky to have such an experience as the Huangshan mountain can be shrouded in clouds for weeks at the time of year we went.
No wonder this place is considered one of the most picturesque places in the world.